Okukurokawa is located in Kurokawa Onsen and surrounded by deep nature.
In the midst of a mountain stream and lush foliage, the Kurokawa Onsen Yamamizuki is a mountain lodge with a seasonal beauty.
Here, we introduce the charm of Yamamizuki
Here we introduce the charm of Yamamizuki.
Location of Yamamizuki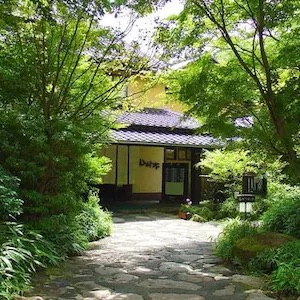 Source : https://www.ikyu.com/00001801/

Two kilometers further from the center of Kurokawa Onsen, a popular hot spring resort. Yamamizuki" is located in Okukurokawa.
Once you get to know the comfort of this hot spring bath completely surrounded by the mountains, you will want to visit again and again.
Kurokurokawa Onsen" is a hot spring resort with a hot spring bill.
The hot spring resort is famous for its small ryokan (Japanese-style inns) clustered along the mountain stream, each with their own open-air baths.
Yamamizuki is located further into the mountains from the center of the hot spring resort. It is located at the end of a narrow road that makes passing oncoming cars a bit nerve-wracking, and is somewhat inconvenient for visiting the hot springs on foot.
In fact, this location was chosen on purpose: mountains are mountains, water is water, and trees are trees. In other words, we want to be a place where you can spend your time as you are, without any pretense or pretension.
This is the idea behind the location.
Attractions of Yamamizuki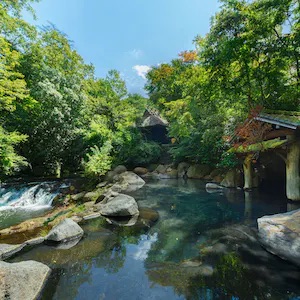 Source : https://www.ikyu.com/00001801/

The charm of this hot spring is that it is surrounded by nature.
To reach the open-air baths along the Tanohara River that flows in front of the inn, you will need to change into geta (wooden clogs) and walk a little, but the approach is full of charm as you see wildflowers and hear the rustling of the trees.
When you hear the sound of rapids, you are almost there. In fact, there are separate open-air baths for men and women along the mountain stream.
Both the men's "Yutani no Yu" and the women's "Morinoyu" are rock baths with a wild atmosphere.
You will feel a strange sensation as if you are soaking in a mountain stream.
The indoor baths vary in style, from wooden to Showa-era retro tile baths.
You will want to try them all, as each has a different atmosphere.
Rooms at Yamamizuki
Type B Japanese style room 10 tatami mats, no bath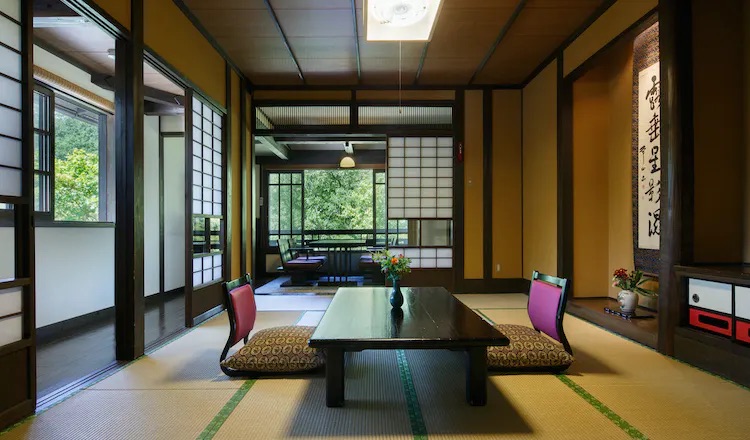 Double bed + Japanese-style room 10 tatami mats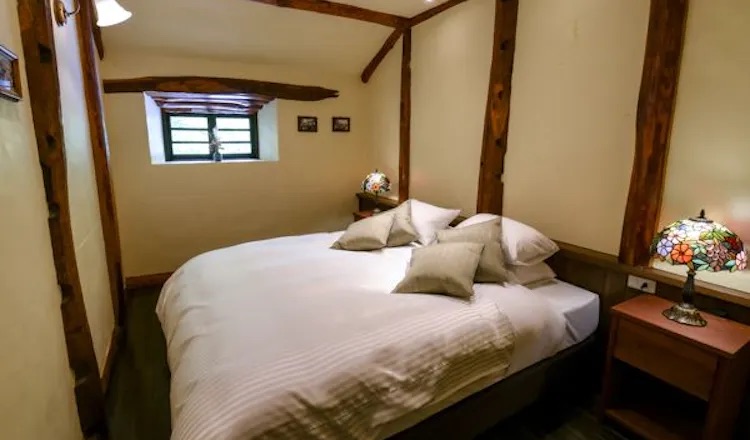 Source : https://www.ikyu.com/00001801/
Yamamizuki Cuisine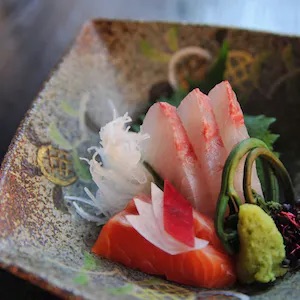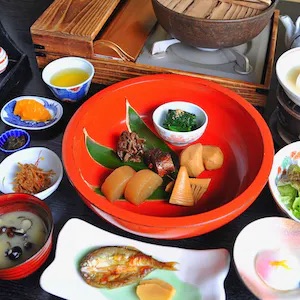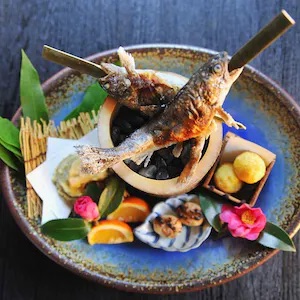 Source : https://www.ikyu.com/00001801/

Because the inn is located in the mountains, the meals are creative kaiseki meals that are rich in mountain delicacies.
Some may feel that these dishes are plain compared to the seafood dishes, but they are quite good.
The mountain village cuisine is full of flavor, with wild vegetables in spring, mushrooms in fall, fragrant sweetfish and landlocked salmon, and horse sashimi that melts on the tongue.
The taste of horse sashimi, in particular, can only be found in the area of production.
Please try it with a glass of locally brewed sake.
Yamamizuki Basic Information
| | |
| --- | --- |
| Facility Name | Yamamizuki |
| Address | Okukurokawa Onsen Yamamizuki, Minami-Oguni-machi, Aso-gun, Kumamoto 869-2402 |
| Phone number | 0967-44-0336 |
| Budget | From 41.800 yen for 2 adults |
| Official Site | https://yamamizuki.com/ |
Summary

How was it?
Here we have introduced Yamamizuki, an inn in the mountains of Kurokawa Onsen.
Yamamizuki offers a variety of ways to enjoy the hot spring resort, whether you want to immerse yourself in the serenity of the mountains or enjoy the atmosphere of a hot spring resort town bustling with tourists.
If you can, why not stay for consecutive nights and fully enjoy both?