The spacious terrace of all guest rooms has an open-air bath with a spectacular view of the multi-island sea and Matsushima.
The wooden deck on the common area has a swimming pool overlooking the sea, and the top resort Amakusa Tenkunofune has opened, offering a soothing view.
Here we introduce the charm of Amakusa Tenkunofune.
Location of Amakusa Tenkunofune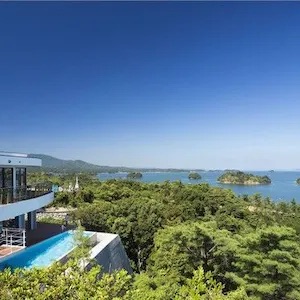 Source : https://www.ikyu.com/00001957/

Amakusa consists of more than 120 islands of various sizes.
To enter Amakusa by car from Kumamoto City, the first bridge to cross is Ammon Bridge, the first of the five Amakusa bridges.
After crossing the No. 2, No. 3, and No. 4 bridges, and finally the No. 5 bridge, "Matsushima Bridge," the hotel you are aiming for is just around the corner. On top of a small hill, you will see a white building that looks as if it is rising out of the sea.
If you think it looks like the bow of a luxury cruise ship, you are correct!
This building, reminiscent of a scene from a movie, is the symbolic location of "Amakusa Tenkunofune".
We want you to enjoy a relaxing time as if you were cruising on the sea or in the sky.
This is the symbol of the hotel.
Amakusa Tenkunofune" consists of a reception building with a lounge and pool on the first floor and a restaurant on the second floor, an accommodation building connected to the reception building by a grand staircase, and villas located at the end of a peninsula in a slightly remote area.
Attractions of Amakusa Tenkunofune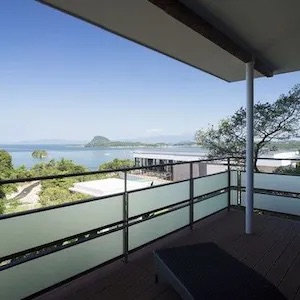 Source : https://www.ikyu.com/00001957/

The charm of this hotel is that you can enjoy the spectacular view of Amakusa from all 15 rooms.
The "Panorama View Villa," which is a detached suite, goes without saying.
Moreover, all rooms are equipped with an open-air bath, so you can enjoy the view while soaking in Amakusa's hot spring water, a luxury that can be realized.
The hot water of Matsushima in Amakusa is known for its mild spring water and is a beauty's bath.
A moment soaking in the baths, especially surrounded by the beautiful evening scenery, will be a moment of sheer bliss.
Rooms at Amakusa Tenkunofune
Bridge View Twin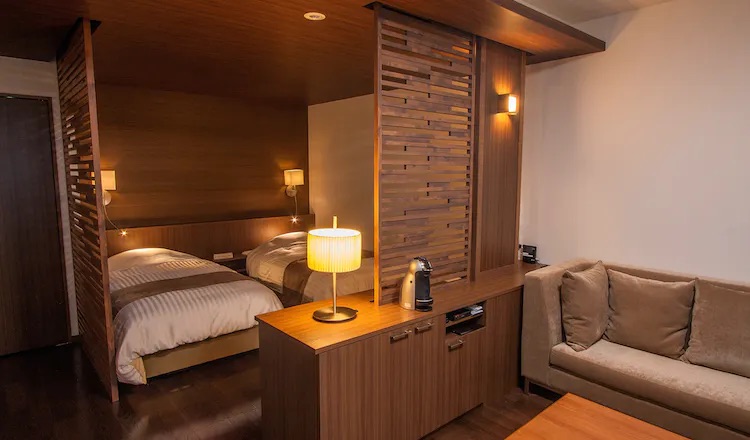 Bridge View Double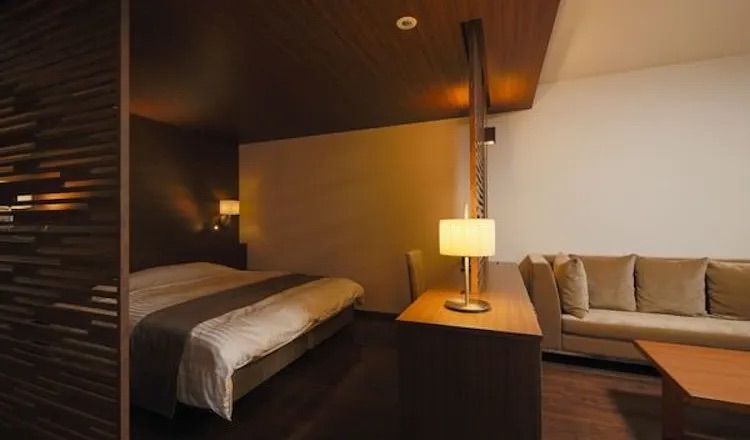 Sunset View Junior Suite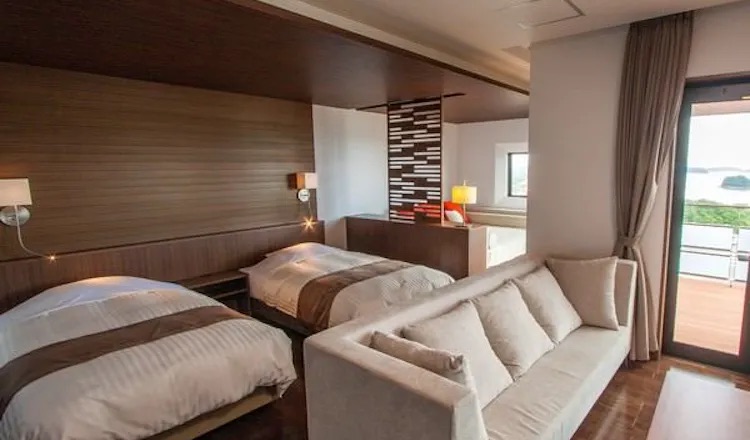 Source : https://www.ikyu.com/00001957/
Amakusa Tenkunofune Cuisine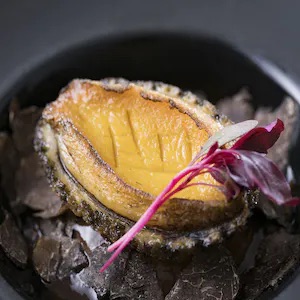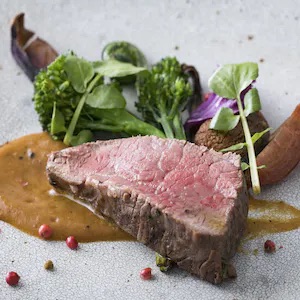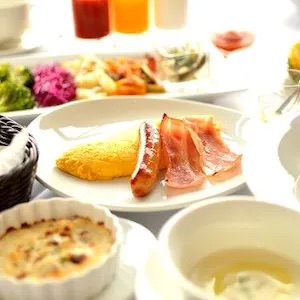 Source : https://www.ikyu.com/00001957/

Kyushu is a treasure trove of ingredients.
Expectations for the food are also high.
And if you visit the "Festa del mare" restaurant on the second floor of the reception building, your expectations will be at their highest!
The restaurant has a total of 48 seats, including private rooms.
Surrounded by glass walls, the restaurant looks like the deck of a cruise ship.
In addition to seafood such as Amakusa black abalones, the restaurant also offers a wide variety of brand-name meats such as Asoyama red beef, Amakusa Daio, a fantastic local chicken, Amakusa Kurobuta pork, and plum pork.
You can enjoy authentic Italian cuisine using these local ingredients to your heart's content.
Amakusa Tenkunofune Basic Information
| | |
| --- | --- |
| Facility Name | Amakusa Tenkunofune |
| Address | 5984-2, Aizu, Matsushima-cho, Kamitenso, Kumamoto 861-6102, Japan |
| Phone number | 0969-25-2000 |
| Budget | 大人2名:50.600円〜 |
| Official Site | https://www.tenku-f.jp/ |
Summary

How was it?
Here we have introduced the Amakusa Tenkunofune.
The endless blue Amakusa sea and sky.
Why don't you enjoy the luxury of spending a relaxing time while viewing such a dynamic scenery?