Kyo-sen, a hidden inn with 8 rooms, was selected as one of the "10 Best Small Inns in Japan" in FY2020.
Located on the cape of the Tenryu Gorge, surrounded by the Tenryu Okumikawa National Park, it overlooks the ever-changing colors of the Tenryu River below.
Here we introduce the charms of Kyo-sen.
Location of KYOUSEN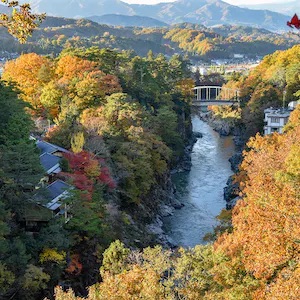 Source : https://www.ikyu.com/00000436/

Access from the Tokyo and Nagoya areas is more convenient by highway bus than by train.
It takes about 4 hours and 20 minutes from Shinjuku.
The exterior of the hotel is pure Japanese style with a calm appearance.
It has been about 30 years since it was built, but four of the eight rooms have been renovated, and a library and a dining area have been newly built.
It reopened in the spring of 2019.
In the lounge, guests are greeted by background music created by a spatial acoustic designer.
This background music is designed to be in tune with the surrounding environment at any given time, such as the flow of water in the garden and the time of day.
There is also a free drink corner available 24 hours a day.
Attractions of KYOUSEN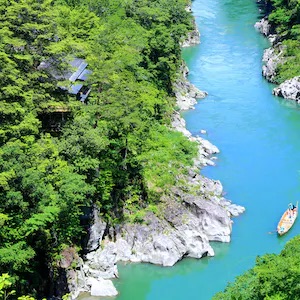 Source : https://www.ikyu.com/00000436/

The Tenryu River has long been known as the "Violent Tenryu.
The charm of "Tenryu-kyo Onsen Kyo-sen, a hidden inn nestled in a ravine," which stands along the river, is its location at the edge of the Tenryu River.
It is located in the midst of the Tenryu Gorge, a scenic area with a series of oddly shaped rocks, and some guests describe it as "standing on the granite of the Tenryu Gorge.
Tenryu Gorge is home to a variety of giant and oddly shaped rocks, including Ryukakubine.
Tenryukyo Onsen Gorge Hideaway Inn Kyo-sen" is conveniently located for river cruising or a quick stroll along the river.
The hot springs are also an attraction. The inn's hot spring, Tenryu Gorge Onsen, was dug in 1989.
The natural radon content is one of the highest in Japan, and it is one of the rare radioactive springs in Japan.
In addition to its curative effects on skin diseases, women's diseases, arteriosclerosis, and high blood pressure, the high alkalinity of pH 9 to 10 makes the skin smooth and smooth.
It is popular for its skin feeling as if it is soaked in a beauty essence.
Rooms at KYOUSEN
FUKA 51 square meters, sofa bed, indoor cypress bath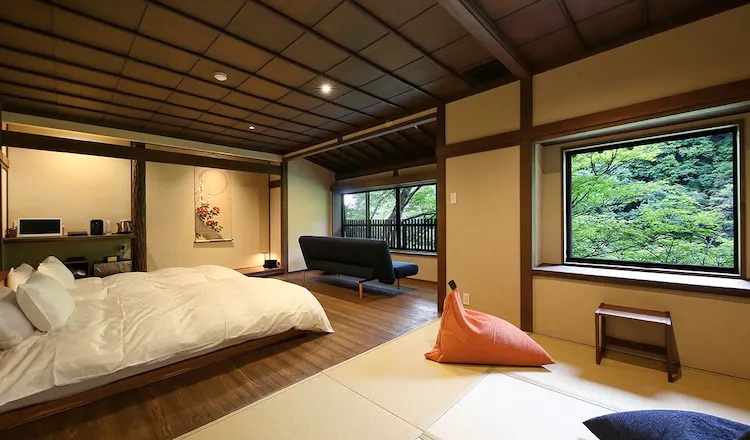 KACHO 52 square meters, table chair, Goemon bath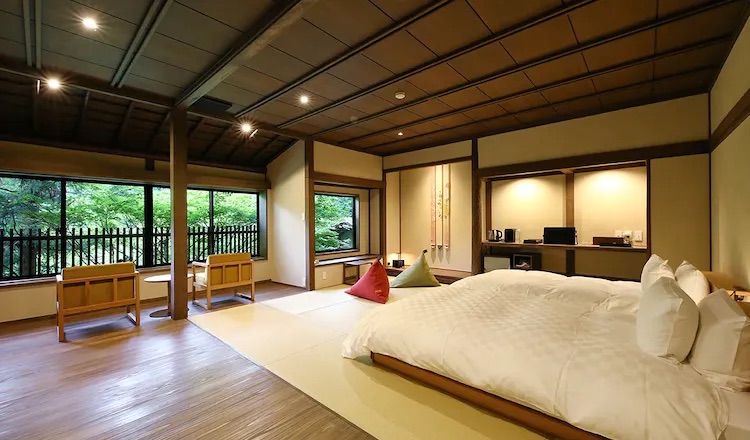 TSURU 48 square meters, the closest guest room to Tenryu Gorge, and a half open-air bath.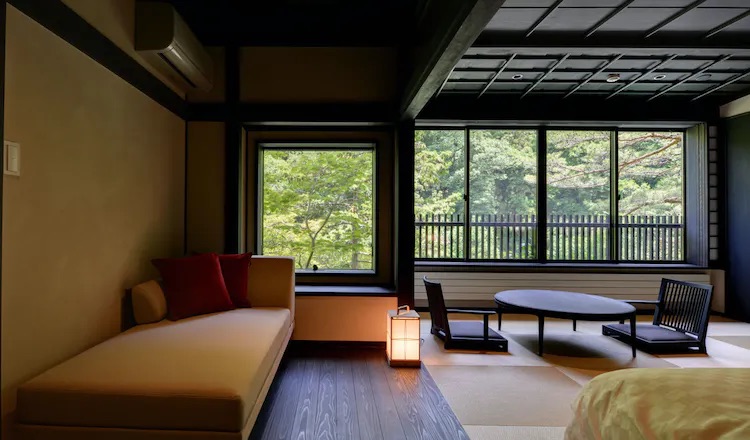 Source : https://www.ikyu.com/00000436/
KYOUSEN Cuisine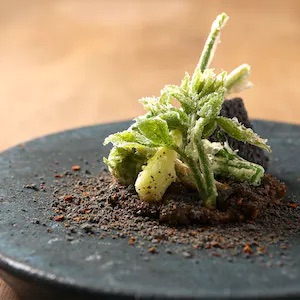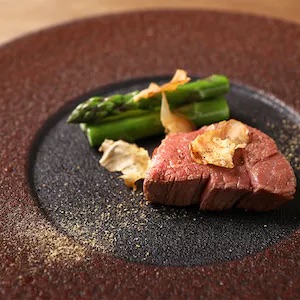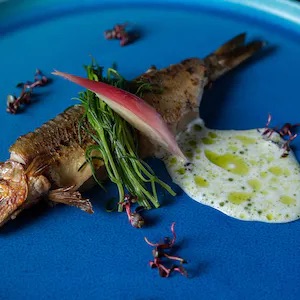 Source : https://www.ikyu.com/00000436/

Dinner is a creative seasonal kaiseki meal.
The theme is based on the world of Chinese poetry related to Tenryu Gorge, and there are plenty of playful touches such as ayu (sweetfish) and iwana (char) swimming around, and a king crab playing in the shade of pebbles.
The elaborate cuisine continues to be a feast for the eyes as well.
KYOUSEN Basic Information
| | |
| --- | --- |
| Facility Name | KYOUSEN |
| Address | 4942-2 Kawaji, Iida City, Nagano, 399-2431 Japan |
| Phone number | 0265-27-3332 |
| Budget | From 65.000 yen for 2 adults |
| Official Site | https://kyousen.com/ |
Summary

How was it?
Here we introduced you to Kyo-sen, a hidden inn nestled in the Tenryukyo Hot Spring Gorge.
We recommend that you fully enjoy the scenery and hot springs in the fresh air.
Please use this inn as a base to fully enjoy the charms of Tenryu Gorge.