Ganjima Villa is a villa inn located in Hagi City, Yamaguchi Prefecture.
The spaciousness of the guest rooms and the view that stretches to the sky and the sea will make your stay in Hagi a special one.
Here we introduce the charms of Ganjima Villa.
Location of Ganjima Villa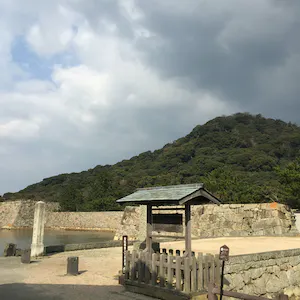 Source : https://www.ikyu.com/00002649/

About 10 minutes on foot from Higashi Hagi Station.
Hagi Hakkei Ganjima Villa" stands on the banks of the Matsumoto River in Hagi, and consists of a front desk, restaurant building, and guest room building.
First, go to the front desk and restaurant building.
After passing through the stained glass door, you will be greeted by a Western-style lobby.
The red carpet on the stairs is eye-catching.
In front of the check-in counter, antique chairs and lights are arranged, and the soft light on the massive zelkova structure creates a classical atmosphere with warmth and calmness.
Attractions of Ganjima Villa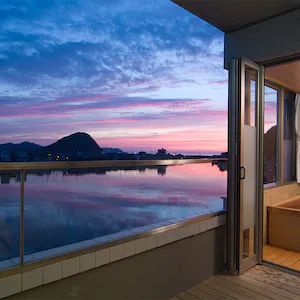 Source : https://www.ikyu.com/00002649/

The charm of Ganjima Villa is its beautiful scenery.
There are 16 rooms in total.
All rooms overlook the river or canal and the town.
Guest rooms on the river side offer a waterside sunset view called "Tsurue no Yusho," one of the eight best views in Hagi.
The rooms are also equipped with a half-open-air bath, so you can take a bath while enjoying the view.
Enjoy the view of the river and the town in your own private space.
For those who prefer a more luxurious stay, we recommend the "Special Room River Suite," a maisonette type room with twin beds in a loft.
Located on the top floor with a great view, only this room has a half-open-air bath with hot spring water!
Rooms at Ganjima Villa
Canal-side twin [Canal View Twin] Non-smoking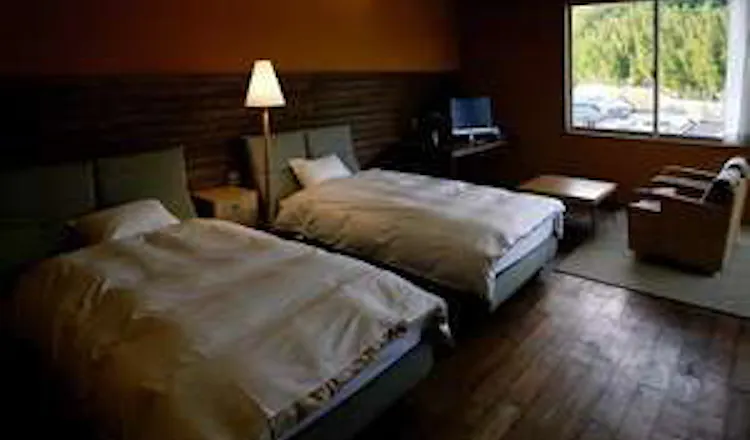 [Japanese-style room 12.5+7.5 tatami mat] Kawabe, semi-open air bath, non-smoking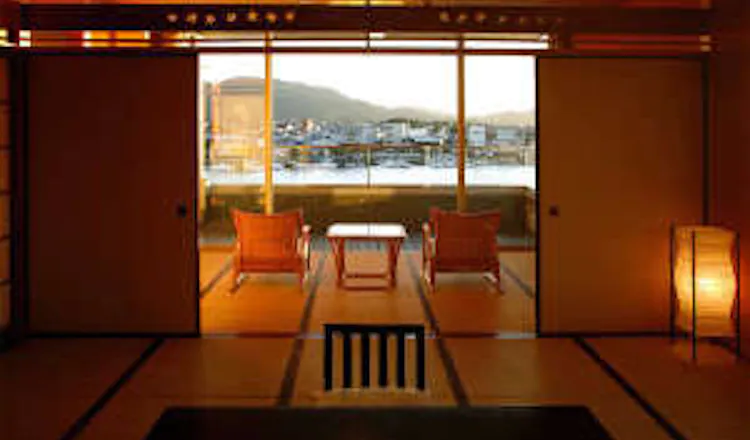 [Junior Suite] River side, half open-air bath, non-smoking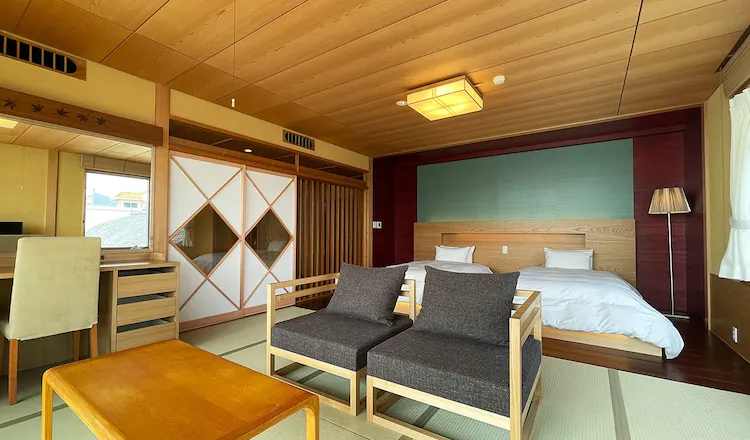 Source : https://www.ikyu.com/00002649/
Ganjima Villa Cuisine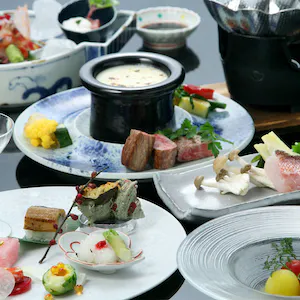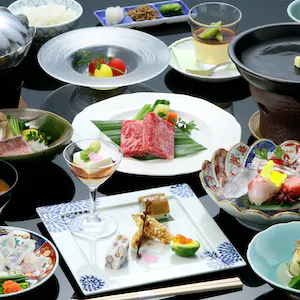 Source : https://www.ikyu.com/00002649/

Dinner is served with standard Japanese-style kaiseki meals featuring seafood from the Sea of Japan or specially selected Japanese-style kaiseki meals including Hagi's brand beef, Nagahagi Wagyu.
Enjoy the taste of Hagi to the fullest. There is also a plan that offers Yamaguchi's famous "KAWARA-SOBA" (tile soba), in which tea soba noodles are cooked on a tile.
Ganjima Villa Basic Information
| | |
| --- | --- |
| Facility Name | Ganjima Villa |
| Address | 3092 Shinkawa-Tsubaki-Higashi, Hagi, Yamaguchi 758-0011, Japan |
| Phone number | 0838-26-2882 |
| Budget | From 39.000 yen for 2 adults |
| Official Site | http://www.ganjima.jp/ |
Summary

How was it?
Here we introduced you to Ganjima Villa.
Hagi Hakkei Ganjima Villa is a place where you can spend your time as leisurely as the flow of a river.
The time you spend immersed in Hagi's aesthetic water scenery will surely be a special and unforgettable stay.