Located on a hill overlooking the hot spring resort town of Gero Onsen, Shougetsu is an inn with glass walls throughout the guest rooms so as not to block the view of the city.
With a total of 21 luxurious rooms (three rooms per floor), you can experience the inn's name, "playing in the sky.
Here, we introduce the charms of "Shougetsu," which means "playing in the sky" in Japanese, and other details.
Location of Shougetsu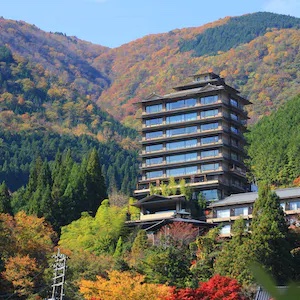 Source : https://www.ikyu.com/00000864

Gero Onsen may remind many people of the bathing atmosphere of "Fountain Pond," an open-air bath in the river that is not enclosed in any way.
There are also footbaths scattered here and there, making it possible to enjoy a tour of the hot spring baths.
There are only three rooms on each floor, for a total of 21 rooms.
Children under 12 years old are not allowed, so this is a perfect choice for those who want a quiet and relaxing stay.
Attractions of Shougetsu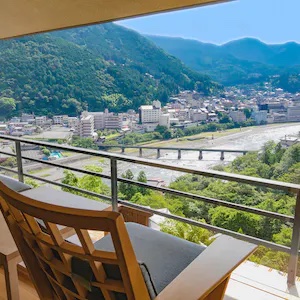 Source : https://www.ikyu.com/00000864

The charm of Shougetsu is the wonderful view that only a hilltop can offer.
To enhance the view, the front of each room is made entirely of glass, and the hot spring resort town spreads out before your eyes.
The entire Gero Onsen district can be seen at a glance, with inns clustered along the Hida River (Mashida River).
The magnificent mountains surrounding the hot spring resort.
In the foreground is the neatly shaped Mt. Nakane, known as "Gero Fuji," and in the background is Yugamine.
Yugamine in the back. In fact, Gero Onsen originally sprang up near the top of Yugamine.
The evening view of the hot spring resort as the lights begin to come on is indescribably beautiful.
If the conditions are right, a sea of clouds can even appear early in the morning. In addition, fireworks are set off not only in summer but also every Saturday in winter (January through March), and you can enjoy them from the comfort of your room.
Rooms at Shougetsu
Non-smoking room Standard guest room, Tsuma-side Japanese-style room (11 mats + 6 mats)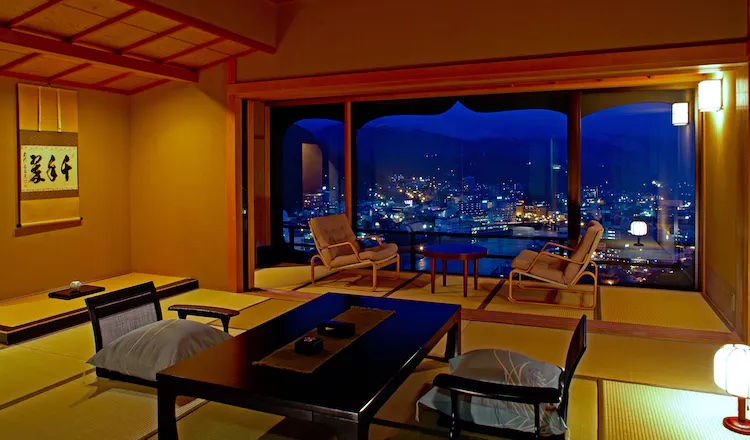 Non-smoking rooms】Central standard room (12.5 tatami mats + bedroom + veranda)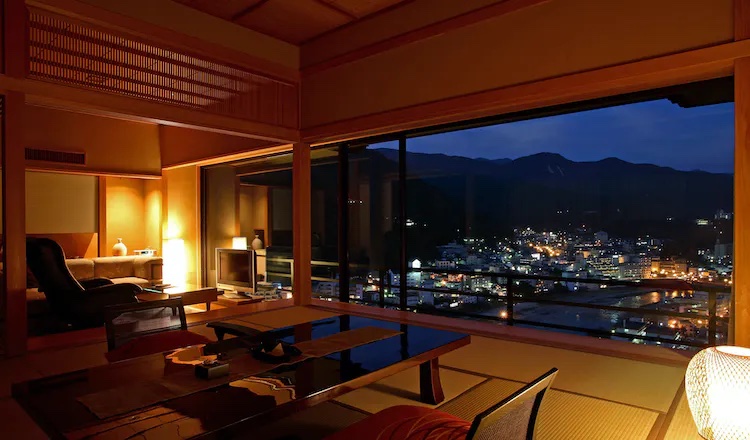 Source : https://www.ikyu.com/00000864
Shougetsu Cuisine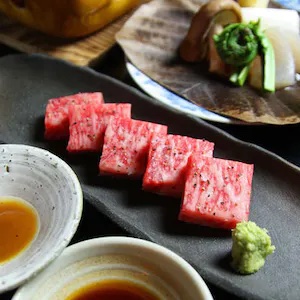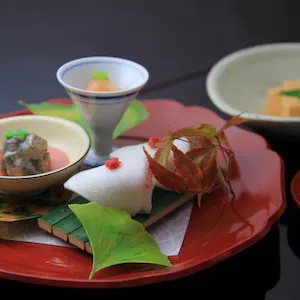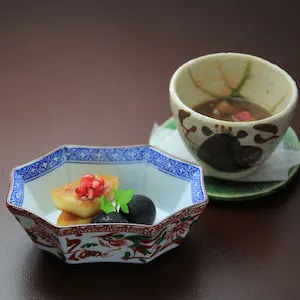 Source : https://www.ikyu.com/00000864

Meals are served in the beautiful sukiya-style Suikotei Restaurant.
Each room is individually designed and furnished, so you can enjoy your meal as if you had the whole extraordinary space to yourself.
Hida beef is a specialty of Hida, and is served in a variety of ways at this inn, such as grilled with miso, sukishabu, steak, and seared nigiri.
It is a blissful experience to enjoy the melt-in-your-mouth fatty flavor of Hida beef in a variety of ways.
Shougetsu Basic Information
| | |
| --- | --- |
| Facility Name | Shougetsu |
| Address | 2148-1 Nishikamida, Hagiwara-cho, Gifu 509-2503, Japan |
| Phone number | 0576-25-7611 |
| Budget | From 59.000 yen for 2 adults |
| Official Site | https://www.shougetsu.jp/ |
Source : https://www.ikyu.com/00000864
Summary

How was it?
Here we introduced you to Gero Onsen, Play in the Sky This Evening, Shougetsu.
After dinner, enjoy bathing again while admiring the moon in the night sky, or sit back in a chair on the veranda and have a drink.
An exciting night awaits you at Gero Onsen This Evening: Playing in the Sky Shougetsu.